Salvador Dali
1904 - Salvador Dali is born in Figueres, Spain.
1918 - Dali's exhibits his paintings for the first time in the municipal hall in Figuéras.
1921 - Dali starts studying at the San Fernando School of Fine Arts in Madrid.
1923 - Dali is expelled from the San Fernando School, accused of rebellion.
1917 - Salvador Dali attends drawing classes taught by teacher Juan Núñez at the Municipal Drawing School, la Escuela Municipal de Grabado, in Figueres.
1926 - Dali goes to Paris for the first time where he meets Picasso, a man he greatly admires.
1929 - Dali meets Gala, the women who will become the love of his life and his muse.
1934 - Salvador Dali goes to the United States for the first time, (on a trip paid by Picasso).
1939 - The big New York department store Bonwit-Teller asks Salvador Dali to decorate their storefronts.
1943 - Dali sells his first painting to an American couple, both art collectors.
1945 - Dali meets Alfred Hitchcock who he admires and he later designs and constructs sets for his films.
1946 - Dali has a shared exhibition with Juan Gris, Picasso and Miro at the Institute of Modern Art in Boston.
1948 - Dali returns to Spain from the United States and moves to Port Lligat.
1955 - Dali paints the decor for the Zoo de Vincennes in Paris, publishes manifests and receives orders from collectors and institutions.
1969 - Dali moves to Púbol Castle that he decorates entirely for his muse Gala.
1978 - Dali presents his first hyper-stereoscopic painting at the Guggenheim Museum in New York. His paintings are now inspired by Michelangelo and Raphael.
1980 - Gala passes away.
1989 - Salvador Dalí dies in Torre Galatea on January 23.

DALI - CATALOGUES RAISONNES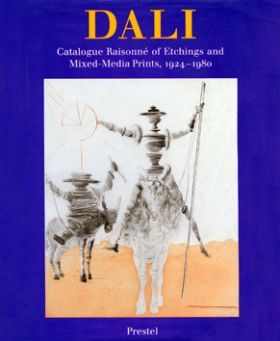 "Dali, catalogue raisonné of etchings and mixed-media prints", all the original engravings and mixed-media prints of Salvator Dali are in this catalogue made by R. Michler and L. W. Löpsinger. Ed. Prestel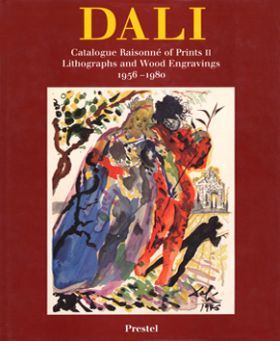 "Dali, catalogue raisonné of etchings and mixed-media prints", this second volume is devoted to all the original lithographs made by Dali, as well as his woodcuts.