Marino Marini
1980 - Marino Marini dies in Viareggio, Italy
1950 - Marino Marini meets the art merchant Curt Valentin who will make him known in the United States.
1948 - At the Venice Biennial Exhibition, an entire hall is dedicated to Marino Marini's works.
1945 - Marino Marini returns to settle in Milan and continues his course at the Bréra Academy.
1943 - Marino Marini leaves Italy to settle in Tessin where he joins up with Alberto Giacometti and Germaine Richier.
1940 - Marino Marini becomes a teacher of sculpture at the Bréra Academy in Milan.
1935 - Marini wins the Grand Prize at the Rome Quadrennial Exhibition.
1932 - Marino Marini's first major personal exhibition in Milan.
1929 - Marino Marini becomes a teacher at the Villa Reale School of Art in Milan.
1917 - Marini studies at the Florence Academy of Fine Arts.
1901 - Marino Marini is born in Pistoia, Italy.

MARINI - THE MAIN EXHIBITIONS
1932 - Gallery Milano, Milan, Italy.
1933 - Gallery Sabatello, Roma, Italy.
1950 - Gallery Curt Valentin, New-York, USA.
1962 - Kunsthaus Zürich, Switzerland.
1973 - Museum of Modern Art, Milano, Italy.

1941 - "Marino Marini" by Filippo de Pisis, Milano.
1953 - "Marino Marini" by Umbro Apollonio, Milano.
1959 - "Marino Marini" by Douglas Cooper, Milano.
1972 - "Marino Marini" by Alberto Busignani, London.

MARINI - CATALOGUES RAISONNES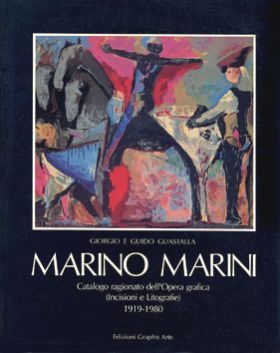 "Marino Marini Catalogo ragionato dell'Opera grafica" is the catalogue for all the original prints of Marino Marini, about 400 lithographs and etchings are here described. Catalogue made by Giorgio and Guido Guastalla, published by Graphis Arte