Alberto Giacometti
1901 - Alberto Giacometti is born in Stampa, Switzerland. He is the son of Giovanni Giacometti, a Swiss impressionist painter.
1920 - Alberto Giacometti studies at the Geneva School of Fine Arts.
1922 - Giacometti moves to Paris and associates with people from the surrealist movement.
1927 - Alberto Giacometti moves with his brother Diego to a small workshop in the 14th arrondissement of Paris.
1928 - Giacometti exhibits his works in the Salon de Tuileries, Paris.
1930 - The art gallery Pierre exhibits several of Giacometti's artworks, exhibited side by side with Miro and Arp. Giacometti officially joins the Surrealist movement the following year.
1935 - Giacometti breaks off with the Surrealists but stays friend with Michel Leiris and Georges Limbour.
1939 - Alberto Giacometti leaves Paris for Geneva where he, lacking a workshop, creates miniature sculptures.
1947 - Alberto Giacometti takes up the "L'homme qui marche" project that he had started already in 1932. He is henceforth a man of international renown and the Tate Gallery buys some of his sculptures.
1949 - A Giacometti exhibit at the Pierre Matisse gallery in New York.
1952 - The Maeght gallery exhibits Giacometti's art and he how experiences great success and popularity demand from museums and collectors but chooses to continue to live in the small workshop where he first started.
1957 - Giacometti starts illustrating "Paris sans fin" (Paris Forever), containing 150 original lithographs. The book is published in 1962.
1962 - Alberto Giacometti receives the Grand Prix of Sculpture at the Venice Biennale.
1965 - Giacometti is awarded the Grand Prix National des Arts by the French Government.
1966 - Alberto Giacometti dies from a cancer in the cantonal hospital in Chur, Switzerland.

GIACOMETTI - BIBLIOGRAPHY
1955 - "Perpetuating the transcient" by David Sylverster, Ed. The Arts Concils of Great Britain, London.
1958 - "Giacometti" by Isaku Yanaihara, Tokyo.
1962 - "In the Louvre Museum with Alberto Giacometti" by Pierre Schneider, Ed. Preuves, Paris.
1963 - "Giacometti" by Palma Bucarelli, Ed. Editalia, Rome.
1964 - "L'atelier d'Alberto Giacometti" by Jean Genet, Ed. L'Arbalète, Paris.

GIACOMETTI - CATALOGUES RAISONNES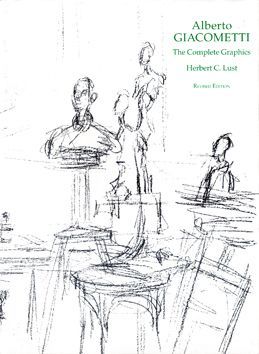 "Alberto Giacometti, the complete graphics", catalogue made by Herbert C. Lust and published by Alan Wofsy Fine Arts. About 400 original prints by Giacometti are here reproduced and described.